The Dance of Relationships
The Shakti dance of relationship connects us to our demons and our passion~ that which makes us whole.  This work regenerates body and spirit, evolving and healing our relationship with Self.
We begin with primary physical connections, the relationship of asana to asana as they sequence and support each other in forming a dance.
The relationships are layered, creating links of physical to meta-physical – Listening to energies evoked through choice of mudra, mantra, and breath.
Once the structure of a dance is begun, we sequence from learning – to doing – to being. Our objective is to allow the emotional embodiment of each dance to move through us, allowing our genius to listen, respond, and grow from an intuitive place, a space uniquely our own.
As the dances deepen, our relationship to the movement becomes a place where we honor and love Self.  Achieving this greater connection, this empathetic understanding to self, and with one another, we change lives one dance at a time.
May all lives be happy and free.
---
Join the movement…
Experience the transformative power of Shakti Yoga Dance through workshops that pull dancers, musicians, as well as Yogis of joy into your studio. Contact Samantha for further information, questions and pricing on workshopping Shakti Yoga Dances.
What happens in a Shakti Workshop?
Creating a resilient life and heart becomes critical as the world spins faster. We must adjust and change a point of view, an intention, a decision, our understanding with greater ease and competency. What is the alchemy providing that power? It is growing the energy of Shakti within. Hers is the alchemical feminine that listens, heals, regenerates, explores – then risks chaos to transform. Hers is the joyous ear that moves from the heart to express a beautiful poem or harmony, healing not only the mover but the observer.
As the body learns to move from deeper consciousness and harmony, it transmutes old wounds, releasing the past.
The dances are choreographed to stimulate healing, creativity, and joy.
Stress is reduced from the opening, and connection of subtle body layers.
A toolbox is constructed for building greater awareness and freedom of movement thought, and feeling.
Working with Shakti's energy increases strength, alignment, balance, and flexibility in mind and body.
You are more connected to your spirit from an ability to weave layers of consciousness.
There is an increase of sensory perception and internal power through use of conscious breath, bandhas, and repetition.
You grow an expanded ability to express easily and confidently.
Workshops Available for Your Studio
Dance The Mat
This is an introductory invitation of 2.5 hours-to learn two SYD. Or, you may learn three dances over four hours. This is a physical workshop for those in good shape, having had at least a year of strong Practice.
Workshop Structure:
Welcoming chants and mudras, followed by an hour warm-up in which any unusual, or more difficult sequencing of the dances is practiced.
Before each of the dances, there is a discussion of the original energies, the intentions that were woven together to create the dance.  These include: mudra, chant, poetry, and the seasonal underpinnings of Ayurvedic, and Astrologic information.
The dances are repeated on both sides until they can be 'danced' with pleasure and assurance.
Class ends with time for shared discussion of the experience, followed by a 15 minute Savasana and closing circle of chanting with mudra.
Intensive Training
This three day immersion is a refuge to connect your emotional spirit to your life, exploring  ways to heal and accept peace, while creating a remarkable Shakti-Self on the mat.  We explore Shakti's creative, regenerative arts of emotional expression, asana, Pranayama, ritual, community,and the power of body/mind union. We dance the mat exploring was to re-asses life.  Sacred dance has been a transformative ritual from the beginning. We danced for healing, celebration, renewal, magic, cleansing, and clarity. Through movement, the body instructs the mind, opening intuitive channels release the old, making space for new.
Sequencing More than Asanas
The Choreographic Art of Shakti Yoga Dances
Offered as Half-day or Full-day Workshop. Learn the art of linking asanas, breath, dance, and life.
Whether you are an instructor, or becoming a more creative Practitioner, the art of sequencing deepens not only Asana flow, but the flow of daily life. It brings greater stability on, and off, the mat, supporting surprising connections between body, mind, and emotion.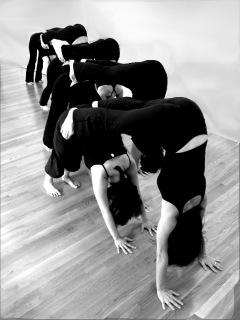 One of the primary goals in doing the dances is the intention moving the body through each segment, connecting it physically and emotionally to the entire piece. As a goal, this creates a different intelligence. New neural pathways are formed. As the dances are practiced, these neural pathways grow bolder, opening the body to become more aware of its intentions, and move through a day very differently. You could call it, 'intended segmenting;' You wake and decide to be happy. You have breakfast and visualize how the food nourishes you. You leave for work and intend to be kind to a stranger. At the office, the goal is to produce wonderful work, no matter who's being difficult. An on it goes. As the linking within Shakti Yoga Dances becomes more vibrant, so too does a day's segmenting. Life is less haphazard, and more within reach.
Yoga asks us to stand present in the Practice, as do Shakti Yoga Dances. But Shakti Dances fire up emotional awareness, even longing. They awaken desires for connection, not only within Self, but with others. They create pathways making us more aware of how we wish to charge and change each day.
Workshop Structure
Part demonstration, part lecture, part Practice, part collusion and collaboration, definite tribal joining.
Questions to be asked and answered: How do you want your life to change as you learn the 'Art of Sequencing?" How do I get there from here? Do the means justify the end? How does the flow, the idea, the preposition of choice change my Practice? My life? How does the energy of one Asana feed into the next, shifting its energy, allowing me to feel it differently? How many layers can I combine within each dance, and what awareness does that awaken in me?
Contact Samantha for further information, questions and pricing on workshopping Shakti Yoga Dances.